Océane Dusailly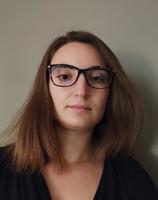 Océane Dusailly (PhD student)
Tel: 03 21 79 17 10
Mail: A venir
Océane Dusailly a débuté son cursus universitaire en 2015, à la faculté de médecine à Reims. A la suite de cela elle a validé une licence (2020) et un master en (2022) à la faculté de Sciences Exactes et Naturelles à Reims. Elle a validé une licence en Science Pour la Santé et le master Sciences pour la Santé avec comme parcours Microenvironnement Cellulaire et Pathologie. En juin 2022 Océane a passé le concours de l'école doctorale avec succès pour réaliser sa thèse au sein du LBHE sous la direction du professeur Laurence Tilloy-Fenart et du docteur Julien Saint-Pol. Elle travaille depuis le premier octobre 2022 sur les mécanismes d'internalisation des EVs par les cellules endothéliales de la barrière hémato-encéphalique (BHE).
Mots clés :
Barrière hémato-encéphalique – vésicules extracellulaires – internalisation
-----------
Océane Dusailly began her university studies in 2015, at the Faculty of Medicine in Reims. After that, she validated a bachelor degree (2020) and a master degree in (2022) at the Faculty of Exact and Natural Sciences in Reims. She validated a licence in Science for Health and the master in Sciences for Health with a course in Cellular Microenvironment and Pathology. In June 2022 Oceane passed the competition of the doctoral school to complete her thesis within the LBHE under the direction of Professor Laurence Tilloy-Fenart and Dr. Julien Saint-Pol. She has been working since the first of October 2022 on the mechanisms of internalization of EVs by endothelial cells of the blood-brain barrier (BBB).
Key words:
Blood-brain barrier - extracellular vesicles - internalization